( The Fiddler of Dooney )
Since older son leaves early Sunday morning for his week-long school trip to New England, including a visit to M.I.T. and many of the Boston highlights we visited three years ago (younger son is quite envious about the aquarium, which has three kinds of penguins), we did mostly utilitarian things Saturday, like getting haircuts for everyone, doing a bit of shopping and washing, drying, sorting and folding lots of laundry. Younger son had soccer early in the morning while older son was working at Hebrew school, and in the afternoon we went for a hike at Meadowside Nature Center which was surprisingly crowded, as we had not anticipated all the Earth Day-related activities that might be going on. So it was not all that eventful a day, though quite lovely out, with temperatures in the 70s and trees in bloom all around where we were walking.
Had a bit of a headache when I woke up and on a lark checked the ingredients on the supposedly organic yogurt I ate yesterday, and it's got high fructose corn syrup in it! And the "pure vanilla extract" my husband uses in cookies also has corn syrup in it. I've been aware for a long time that we get corn fed to us in products we don't even think about, but since I've been reading labels it's been astounding to me: even powdered malt extract, which I thought by definition was germinated barley, has corn in it. I'm going to have to read the ingredients on every single thing we eat regularly; I don't live close enough to either Trader Joe's or Whole Foods to do all our shopping there, even if we could afford it.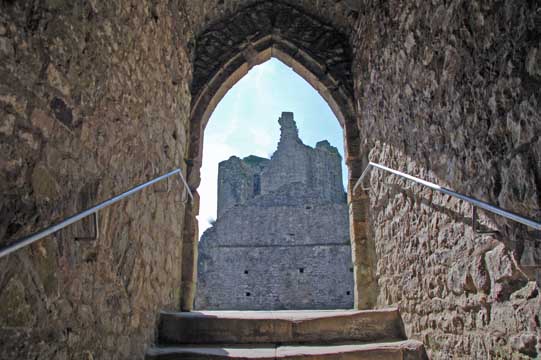 ( Chepstow Castle )
Finally watched the "young Denny Crane" episode of
Boston Legal
, which I had missed while we were in England. It's definitely one of Shatner's best performances on the series and the impression is even greater given that the episode uses clips of him playing a lawyer in an episode of
Westinghouse Studio One
called "The Defender" that someone at ABC pulled out of a vault -- he's stuck with horrible cliched lines and overly dramatic music and he's still compelling in that bad old lawyer drama. Really, except for poor Brad who spends most of the episode stuck in a ventilation shaft, it's a great episode for everyone:
( Spoilers. )