( Choose Something Like a Star )
I meant to post Robert Frost yesterday, in honor of JFK (Frost being his favorite poet), but as usual the right part of the brain was not talking to the left part. Or however that works. I was waylaid much of this afternoon by a migraine that I managed to avert with drugs and a long rest, and am much better now, but hopelessly behind. Sending out vibes to

gblvr
whom I was supposed to see but she was not feeling well either -- hope you are better, sweetie!
And soon I hope I shall be quite distracted with
Prisoner of Azkaban
! I would say to prepare for more Lupin fic, but it shall not be today, and my sister is coming tomorrow with her family which means five children under the age of 12 running around together, so I expect to be boring and domestic for the holidays. Hope everyone else celebrating has exciting or at least comfortable plans!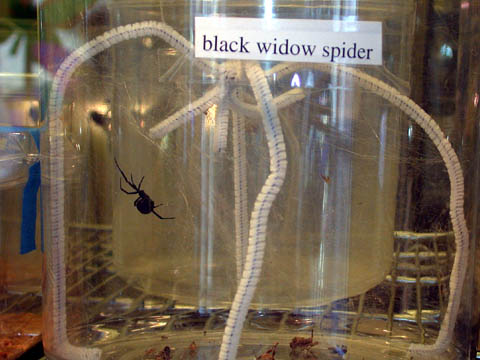 From the Smithsonian Insect Zoo. Because sometimes a spider is just a spider but sometimes a spider is an entertaining metaphor.